Creating wins and reaping profitable rewards is about to be your new normal.

When you Master the secrets and techniques I'm sharing,
you'll experience your biggest, boldest results yet.
"AmyK kept our leadership team on the edge of our seats. Her tools for leading the tough conversations at critical moments in sales, operations and leadership development was a huge help to our leaders and their teams. She has a most effective way to share her energy with the room while getting into each person's mind and confidently assuring them that they can get better. We grew sales by over 12% this year and AmyK was a significant contributor to our growth. Even more importantly she helped us own the right behaviors in preparation for the upcoming year and for moving the company forward faster."
Ken Trainer, COO, Chesmar Homes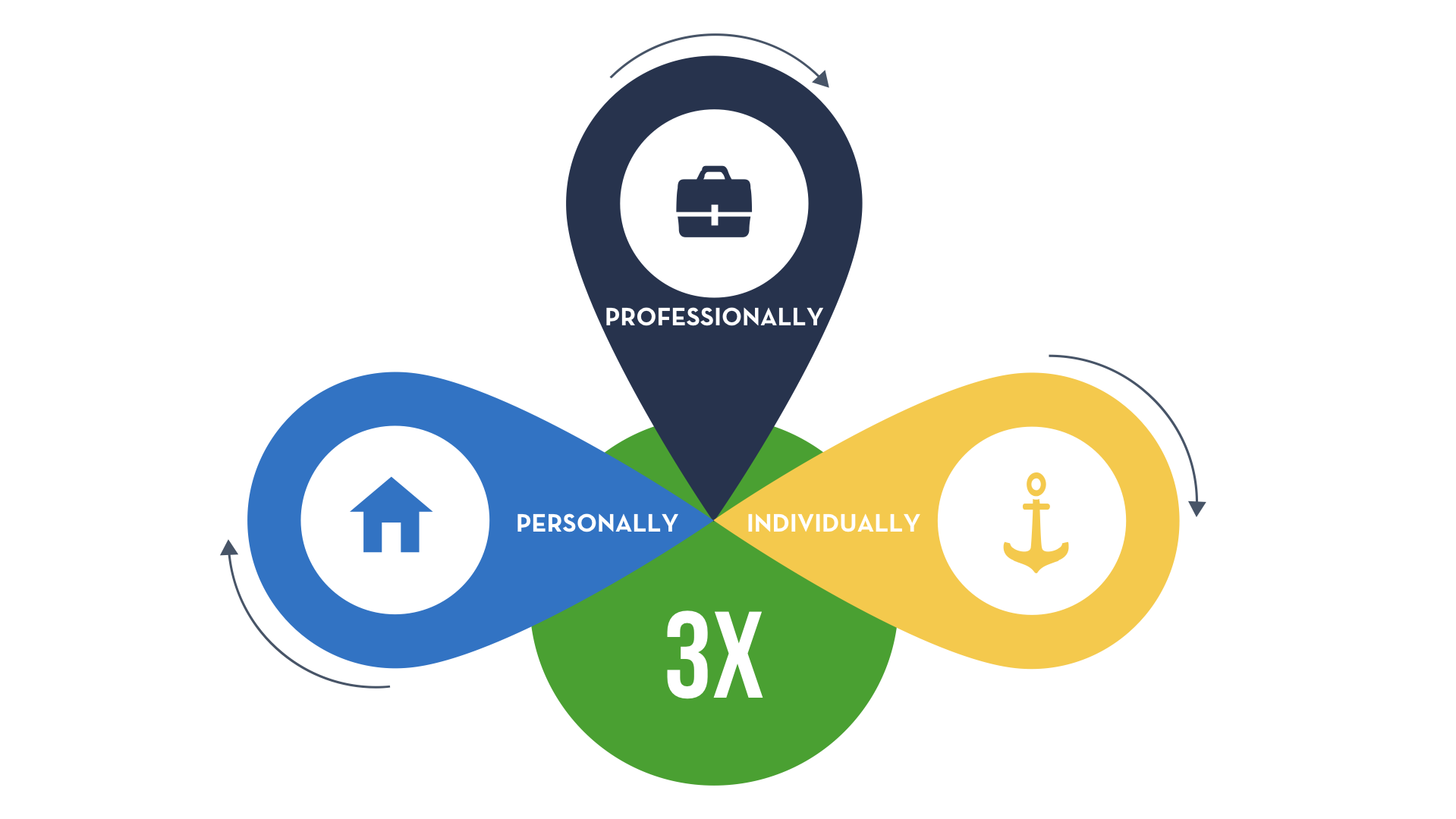 You're successful and want a posse of other smart folks to bounce ideas off of, ideate and challenge one another to expand your impact and your legacy.
You like, appreciate and value high level dialogue focused on becoming a stronger leader, building incredible teams and scaling your business.
You want a fun, safe, kick-ass place to learn in challenging or turbulent times with innovate thinkers and action takers.
3X Profitability Mastermind is going to help you with all of the above
and so much more. And I ain't blowin' smoke.
What if you reversed it all?

getting the feeling of being in control and energized…
despite the chaos and complexity of attempting to scale your business.

getting the calm, confidence and connection you crave…
despite the mental mind suck of feeling like you're not moving fast enough, you're not doing enough and you don't know enough.

getting to be your biggest, baddest, boldest self [ the Most Valuable Player of the game]…
despite crazy calls from the referees, the maddening crowds and the "in your face" opponents.

getting to wake up every day and your first thought is, "I got this! I totally got this!"…
despite the never-ending stressors of your demanding business and hectic personal life.
The 3X Profitability Mastermind is for those who are looking for that advantage, that edge, that separates good leaders from brilliant ones. And it's not just theory. You'll receive proven tools, techniques, strategies and systems to make things happen.
This Mastermind is about... Growth. Accountability. Clarity. Impact. Scaling.
This game-changing experience will help you create the life and results you desire.
WHAT IS 3X PROFITABILITY MASTERMIND
& HOW CAN IT HELP ME?
If you want:
stronger financial results [i.e. sales, systems, structures]
happier clients
more engaged & committed teams
greater clarity
more energy

a lot less stress

stronger, healthier relationships [at home and at work]

and a lot more growth...

you're in the right place.
"Six of my CEO members successfully used AmyK's Aligning Brilliance tool within a week of her presentation to my Vistage group. One was with his wife and he said it was the most productive conversation in their marriage. One was with a difficult employee and he is on board now and developing a plan. One was with a major customer who was exercising too much leverage. All were positive. Thank you, AmyK!!!"
Bruce Merrell, Vistage Chair
"We just closed our fiscal year in July and it was the largest one on record for our business - some of which I believe is a direct result from working with AmyK. Awesome! "
Doug Niemeyer, General Manager, TEKLYNX
"Spending time with AmyK is captivating and uncanny all at the same time. It's like she's been in your head those nights you wake up at two am to worry and wonder about life and what the right path is. She has this way of asking the one question that makes you go, "Whoa, are you a mind reader?!"
Paul Noris, President & CEO, Bank of Central Florida
"...AmyK has never pulled any punches and she isn't going to start now. She sees right through our personas and knows what makes us tick, what makes us thrive and what holds us back. AmyK is a brilliant educator who has taught our leadership team to define our values, leverage our talents and execute on our vision for the company. ...she shares questions that challenge us to become the best version of ourselves."
Ali Flint, CFO, interRel
"Motivating a creative team and getting them to work together in a unified, driven direction is very challenging. Our team has taken what they learned with AmyK to a new level of client satisfaction and growth. We're at the 60 day mark and we've already seen a 12% growth in client services."
–Keith White, COO, ParkerWhite
I run 3X Profitability Masterminds for non-compete CEOs & business leaders and in-house executive teams.
BUSINESS LEADERS:
The members are part of what make this group extraordinary. Which means the synergy of the group is a critical component for each individual's success. For this reason, membership is an invitation. Please submit your application below if you are interested in going through the interview process.
EXECUTIVE TEAMS:
These executives know that after a short-term keynote speech or initial workshop with me the very BEST way to sustain momentum and create long-term, lasting results is to change the thinking and behaviors of the critical influencers.
The following criteria will help you decide if a 3X Profitability Mastermind group is right for you.

Coachable: willing to be vulnerable; willing to leave your ego at the door.

Business ownership or executive experience: [If you're just getting your toes wet whether in the corporate arena or as an entrepreneur, many of the professional tools I share won't be applicable to you for awhile. ]
Looking to actively make a big leap personally, professionally, or both and want a cutting-edge platform and coach to ensure you leap higher and further than ever before and hold you accountable to it.
This is NOT therapy... though we do go deep on mindset. That said, if you've been in therapy for years and nothing has worked for you... this ain't the magic pill you're looking for either.
Deep internal drive to play better: You gotta have the desire to roll up your sleeves along side me.
IS THE 3X PROFITABILITY MASTERMIND
RIGHT FOR ME?
BUSINESS LEADERS:

Each month you will have the opportunity to 3X your results with:
• 1 60-minute call with all members.
• 1 60-minute call one-on-one with me.
• 1 60-minute call with your team members
Customized training & consulting to address
your specific needs. We can problem solve
sales – culture – team dynamics – innovation –
relationship dynamics – customer service –
ownership mentality & accountability – etc.
Nothing is off the table if it's something we
know will help you grow your business.
• exclusive, direct email access to me.
EXECUTIVE TEAMS:

Each month you will have the opportunity to 3X your results with:
• 1 60-minute call with all members.
• 1 60-minute callone-on-one with me.
• 1 60-minute call with your team members
Customized training & consulting to address
your specific needs. We can problem solve
sales – culture – team dynamics – innovation –
relationship dynamics – customer service –
ownership mentality & accountability – etc.
Nothing is off the table if it's something we
know will help you grow your business.
• exclusive, direct email access to me.
HOW DOES THE 3X PROFITABILITY MASTERMIND WORK?
The 3X Profitability Mastermind is designed to seamlessly integrate
with your real world schedule and demands.
The 3X Profitability Mastermind is a combination of
training, coaching, consulting, self-study & real-world application.
It's literally an investment that will pay you back for the rest of your life… one conversation at a time.

You'll re-engineer your thoughts to a forward-focused, forward-creating mindset that will help you take action and become the exceptional leader & communicator
who generates results.
As a business owner, if you want to participate with a group of brilliant thinkers who share similar scaling & expansion goals as you, this is the place to be.
As an executive team, if you want to increase communication and collaboration, solve problems better & faster, foster innovation, establish a healthier culture with greater accountability & alignment so everyone makes better decisions, this is the Mastermind you've been seeking.
I've designed this 3X Profitability Mastermind to get proven results in a short amount of time.

And as a fellow business owner I get that we want to fix stuff, scale stuff and do it now.
BUSINESS LEADERS:
Interested in joining a Business Leader 3X Profitability Mastermind? Contact me at support@amyk.com and we'll send you an application.
EXECUTIVE TEAMS:
Interested in starting an in-house 3X Profitability Mastermind for your Executive Team?
Contact me at support@amyk.com and we'll schedule a call to discuss how we customize each Mastermind to fit the needs of your team.
"AmyK's unique approach to coaching was invaluable. She tapped into a profoundly fascinating balance between psychology and coaching wisdom to help me shine a light on my own behaviors and deep-rooted habits. Adding AmyK's insights and tools to your repertoire is a brilliant decision."
- Jonathan M. Satovsky, Founder & Chief Behavioral Coach, Satovsky Asset Management, LLC
The 3X Profitability Mastermind is an investment in you.
This investment in your capacity to communicate, lead, manage yourself and your relationships with others will pay huge returns in your future.
Life happens one conversation at a time. The quality of your life is a direct reflection of the quality of your conversations. The results you want...are on the other side of a tough conversation. Tough conversations successfully navigated, turn into highly profitable conversations. Profitable conversations get you what you want & create the life you desire.
Profitability can be defined as money, more clients served, more energy, less stress, fewer headaches, boundaries-established, problems-solved, relationships improved, hurdles overcome, barriers broken, ideas generated & innovated upon, limiting beliefs expanded or dropped, and so much more. We'll work together to clarify your desired outcomes and then create an action plan to meet & exceed your goals.
I'm a mix of Pitbull and Labrador Retriever meaning I'm stubborn about getting you tangible, measurable results. I'll hold your feet to the fire for taking action and leading the tough conversations. And... I'll do it with irreverence, a smile and lots of goodwill. I got your back.
I know this isn't right for everyone, and while I'm good at kicking-ass and taking names with respect to solving sales, leadership, innovation, team dynamics, culture & communication problems, I may not be the best fit for your business & your challenges. Which is why we always start with a 30-minute 3X Intro Session. I'll learn about your business' strengths & challenges, and if I can help and you're willing to commit to taking action with me, we can lay out a game plan to partner and drive your business forward faster.
If I'm not the coach/consultant/gal for you, I'll try to find the right person for you. [I'm blessed to have a few Rockstar colleagues in my network.]
To schedule a 3X Intro Session call with me, email us at support@amyk.com.
MY MASTERMIND PHILOSOPHY & COACHING/CONSULTING APPROACH
"AmyK is extraordinary in getting the best results. Her people acumen and strategy for creating winning outcomes positively changed my world forever. I cannot begin to express my gratitude for how brilliantly she shifted my thinking & honed my communication skills resulting in life changing relationships both at home and at work. And she cares and is so much fun. If you're ready to change your personal and/or business situation no matter what it's state, reach out to AmyK ASAP!"
Mitchell Berger, CEO, Howard-Sloan Search
Your information is 100% secure. We do not share it.